It is the consumer who gives us impulses for development and innovation. We believe in co-creation and highly value suggestions and ideas. This way, we received several requests for more invisibility of an undershirt under a thin dress shirt. Skin colors as seen elsewhere were suggested the most. In our opinion there is no universal skin color and on top of that, we have understood from especially Ladies that a kind of skin color undershirt is very un-sexy.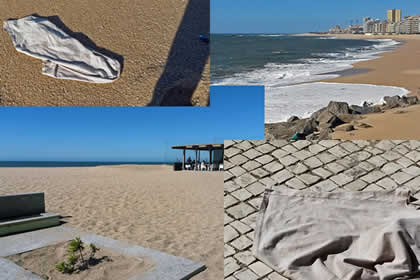 In the meantime we had doubts to ever bring another color between white and black, until I had a clear moment during a visit to Portugal in December last year. I do such visits to our partner manufacturer more often and I stay in and around Porto. Portugal has many hidden secrets that seem to be known by the Portuguese only. Of course everyone is familiar with their world famous fortified wines known as Port. With some imagination one could assume that Port wine is used just as a cover to protect the undiscovered, highly rich, traditional Douro wines and authentic Portuguese cuisine from negative influences of commercialization. Of course this is a joke but it expresses my thoughts as a lucky guy having experienced some of such secrets of Portuguese culture.
One of my favorite places is the Foz do Douro, the beaches of the Atlantic coast at the mouth of the Douro River, the center of surfing, beach clubs and flamboyant nightlife. Also the very popular Industria Club is located here. There hardly are foreign tourists here. This is the place where the urban Portuguese from far and wide come together for fun, beach, leisure, food and clubbing.
Beaches here are beautiful, with an almost golden color, a brilliant contrast to the clear blue sea and the snow-white heads on the wave tops. Brown rocks pop up here and there, having mussels growing on then, and as I have been told to be picked fresh for consumption.
I was enjoying the view of the late afternoon surfers in a moment of relaxation at a beach club, the various colors of the beach, the pebbles the road is paved with and the sand on the floor under my bare feet. Suddenly everything fell into place and I realized that I had found the color I was eagerly looking for. This was the moment I chose the new color and immediately gave it a name: "Beach Club Sand".
The true color of beach sand depends on its circumstances, which makes the color so natural and living. In the morning, dew gives the sand has a light golden color, full sun gives a dried out light beige color during the day while wash of sea water gives a color of deep gold. Dusk makes beach sand brassy and shadow during the day at a beach club gives a combination of light grey/brown/orange/yellow. Beach Club Sand!
Eventually we went on the beach with color sample cards and samples of materials in order to work out the final color. This happened on the beaches of Povoa de Varzim, just above Porto.
Beach Club Sand color stands for a beautiful natural color that can be combined with almost any other color, but mostly compensates color differences of body and clothing and therefore is unique to wear under a dress shirt, polo shirt or else. The color is so vivid, natural and alive that this shirt can be worn casual, like over fine jeans or under a casual blazer.