The advantages wearing 3V Underwear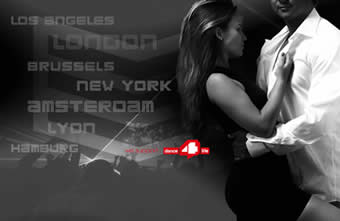 MEN'S FASHION TREND: WOMEN WANT TO SEE THE MEN'S CLEAVAGE - GENTLEMEN, KEEP YOUR UPPER SHIRT BUTTONS OPEN
This message has been distributed by the international fashion industry frequently during the last period, and has been the primary driver for the founders of 3V Underwear to bring a product line of high quality, functional, but also affordable Deep V-Neck T-Shirts on the market.
Aside the fact that women like a man to wear his shirt's top buttons open, the gentleman continues to hold his own preference how to dress and to take care of personal hygiene and protection of valuable clothing.
A nice suit or blazer above a nice shirt without a tie is trendy today. This also affects the way the fashion conscious man dresses.


FUNCTIONALITY - PROTECTION OF VALUABLE CLOTHING AND PERSONAL HYGIENE
A t-shirt worn under your shirt is a habit, especially for Northern European men, often with the white collar clearly visible. A t-shirt is comfortable to wear under a shirt, especially in a region where climate changes are normal. A t-shirt is protective against temperature changes, odors and perspiration. Perspiration, or sweat, can not only be annoying at the time that the human body produces sweat, but also the substances of sweat that damage fine clothing, including a shirt, blazer or suit.

Many men who choose no shirt under a dress shirt will recognize this issue..


THE TREND IN MEN'S FASHION
Summer collections of the major men's wear brands often present strong Mediterranean characteristics lately. The attention for the visibility of the men's cleavage is clearly noted. In some cases, the shirt wide open, even down to the navel, and in some cases without any buttons at all.


3V UNDERWEAR BRINGS THE SOLUTION
3V Underwear maintains a product line of Deep V-Neck underwear T-shirts with three different V-Neck depths based on desired number buttons open, an "ultra comfort fit" as we call it, manufactured out of soft and comfortable bamboo fabrics, extra long so it does not crawl out of your pants, and a tight fit with a pleasant stretch.


THE HIGHEST QUALITY, AND ECO-FRIENDLY AS WELL
Our products are manufactured out of bamboo fabrics, which has many features that surpass cotton fabrics. In a headline, bamboo fabrics is extremely soft and comfortable, and moreover, eco friendly. 3V Underwear is keen not to spare the relatively higher cost of bamboo textile and environmental values.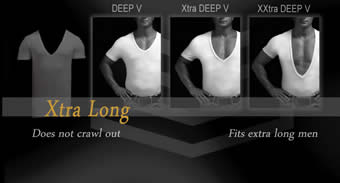 EXTRA LONG T SHIRTS FOR MEN
A standard t-shirt may crawl out of your pants and accumulate exactly at a place where you do not want it, i.o.w. above your pants where it a may cause a "belly look". We have designed our shirts extra long so that a shirt remains comfortably in your pants. And of course this is also very convenient for extra tall men, who are finally provided with a t-shirt that is not too short.


MEN'S LINGERIE
The "looks" of the design, the feel you get by the comfort of wearing it, the touch of the textile, makes a 3V shirt the best part of men's lingerie.

MEN'S SHOPPING CONVENIENCE - CHOOSING THE FINEST, FAST AND EASY
Many men do not want to take time for shopping, to choose and fit. Our shop aims to give the gentleman the opportunity to choose fast for the best and finest product, order, and have it delivered at home fast.
A repeated order is done in a click with an online client account at 3V Underwear, and login details do not even have to be remembered when you login with your personal Facebook, Google or Twitter account.
3V Underwear also likes to remain interactive with it's clients, asking them what they like to be provided with next, in addition to deep v-neck t-shirt underwear. We love co-creation. This may sound arrogant, but we are convinced of the quality of our product.
Read More: Click links below
Actualities, News and 3V Underwear in de media